Art by Dmitry Borshch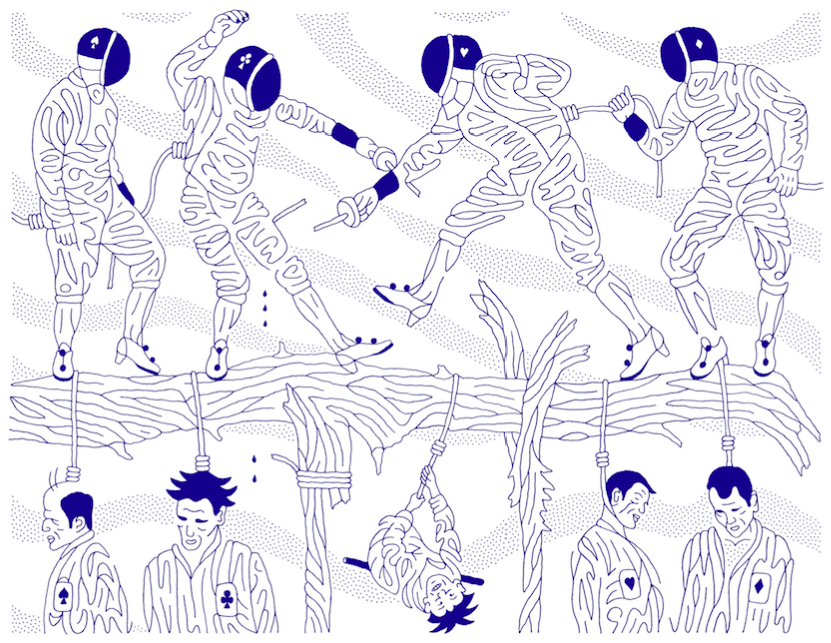 "Exiled from Truth: Nine Allegories by Dmitry Borshch" is the title under which these allegorical pictures are collected, united by color, style, as well as technique. Allegory, drawn or written, is a product of that mind which regards truth as existing-in-absence: it does exist yet is absent from our view. Allegories like mine would not be needed if truth were openly present.
I use ink as my medium because I love the precision of the lines. They recall my first abstract independent works influenced by Russian Constructivism, De Stijl, and Soviet Nonconformists. In my work, I like being challenged by narrower, often technical problems – arranging successfully a group or one-figure portrait, succeeding as a landscapist, still-life painter. My motivation also stems from my desire to speak as an artist—I believe that silence, especially artistic, is painful.
Dmitry Borshch was born in Dnepropetrovsk, studied in Moscow, and lives in New York. His drawings and sculptures have been exhibited at the National Arts Club (New York), Brecht Forum (New York), ISE Cultural Foundation (New York), the State Russian Museum (Saint Petersburg).